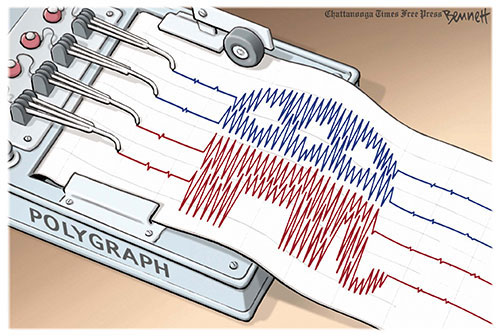 I was feeling my oats, so had the emotional stamina to check out one crazy fella Dean Chambers, this weeks right-wing crush at "UnSkewedPoll". When reality bites, folks who can't handle the truth, resort to making stuff up. This grifter simply cuts the numbers until his conclusions meet conservative expectations. Let me speak of something I know a bit about, something I like to call the "Internet shell game". If you haven't been nicked by this before, consider yourself lucky. Here's how it works…
The scammer registers multiple website names, say… "product.site" & "product-review.site". The swindler first advertises a product heavily, then touts the same product on the review site he created! This scheme is best exemplified by my favorite quotation: "Never ask a barber if you need a haircut."
Here's Mr. Chambers' hard work uncovered by – Matt Zopfi in the comments section at The Examiner on Sept. 19 2012.
I love how you cite your own articles on your skewedpolls.com website. This is really over the top especially after you said – "The UnSkewed Average of polls released today shows Romney with a 7.8 percent lead." YOU CITE YOUR OWN WEBSITE. This isn't "reporting" and you calling yourself a journalist is laughable at best.

Registered through: GoDaddy.com, LLC (http://www.godaddy.com/).
Domain Name: UNSKEWEDPOLLS.COM.
Created on: 28-Aug-12.
Expires on: 28-Aug-13.
Last Updated on: 15-Sep-12.

Administrative Contact:
Chambers, D. M. Ross dean@gop2112.com.
Q Star Productions.
47 Blueberry Lane.
East Falmouth, Massachusetts 02536.
United States
(508) 566-5747
Delusions of this sort have been sold to gullible marks since time memorial by religious institutions, among others. And like those con jobs, if it gives peace of mind in the present, perhaps it serves some purpose. But in the end, dead is dead. So goes the Romney campaign.
Tags: absence of evidence, conservative anxiety, wing-nut conspiracy